Open Space : Méthode pour structurer des espaces de travail, d'échange et de communication » Et pourquoi pas de performance?
Derriere ce nom quelque peu étrange pour un cadre de trial, c'est toute la philosophie de sa conception qui s'exprime : dégager de l'espace pour que la liberté de mouvement et de franchissement soit totale. Le cadre est perçu comme une expression simple, avec pour seul vocation d'être le pont entre le pilote et les éléments en contact avec le terrain.
Nous avons donc conçu le cadre offrant la performance la plus aboutie qui soit tout en sachant se faire oublier, du moins pour le rider en pleine action. Car son physique ne devrait laisser personne indifferent!
Pratiquement, cela se traduit par un nouveau triangle avant exclusif.
– La nouvelle douille de direction accroit la rigidité et améliore le travail du pivot de fourche notamment. Moins d'effort sur celui ci et un rendu des contraintes plus dynamique.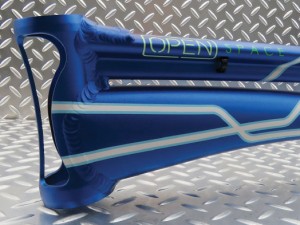 - Le nouveau top tube intègre un passage latéral pour la durite. Sa courbe sera plus linéaire, elle sera moins visible et moins exposée.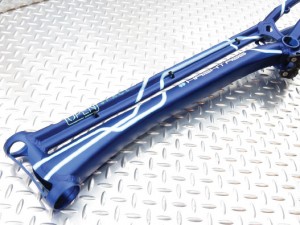 - Le nouveau down tube présente un dégagement en courbe pour accroitre la garde au sol ainsi qu'un système anti « poc ». Dans ses deux tiers inférieurs, la face externe hydroformée est renforcée pour une meilleure resistance au choc et une plus grande rigidité.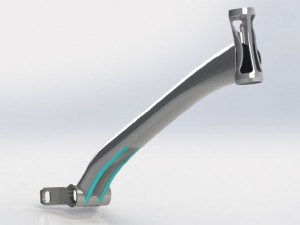 – Les nouvelles plaques latérales, en lieu et place du « tube de selle » viennent avantageusement compenser la reduction de l'aire du triangle avant afin d'optimiser la rigidité latérale.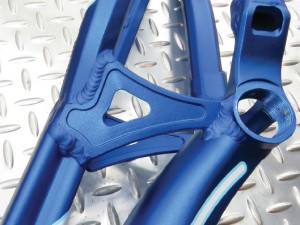 La partie postérieur du cadre reste quant à elle fidèle a ce qui a fait la force de son prédécesseur Raijin : 4 tubes optimisés pour la performance qui assure l'identité Hashtagg, avec en ligne de mire l'esthétique au service du dépassement de seslimites.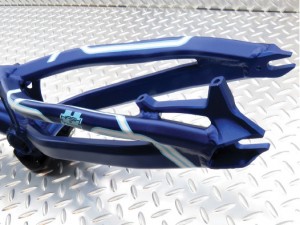 Cadre en aluminium 7005 T6
Axe de roue arriere en 10mm
Boitier de type Euro 68mm
Roulement de direction supérieur intégré et inférieur semi intégré
20'' : 1500g avec sabot 1000/349/+90
26'' : 1550g 1090/377/+70
« Open space : Work, exchange and communication method » And what about performance?
Behind this quite strange name for a trials frame, this is all the philosophy of its conception which is explained : to clear space to allow a complete freedom of movement and overcoming. The frame is designed as a simple expression, with only dedication to link the rider and the elements in contact with the field.
We have been looking for the frame offering the best performance while being forgotten, at least for the rider in action. Because it looks really attractive!
In practice, it is reflected by a new front triangle.
– The new head tube increases rigidity and improves the fork pivotal work. Less stress on it and a better reaction to constraint.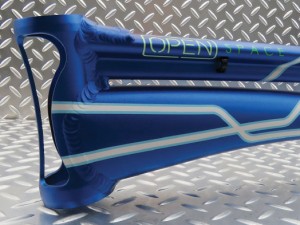 – The new top tube integrates a side guide for the brake hose. Its curve is more linear, it is less visible and exposed.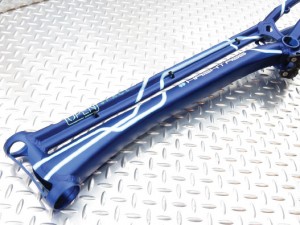 – The new down tube presents a curving passage to increase the clearance and an « anti poc » system. In its lower part, the hydroformed external face is reinforced for a better resistance to impacts and a higher rigidity.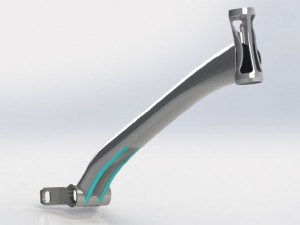 – The new side plates replacing the « seat tube » usefully balance the reduction of the front triangle area to improve lateral rigidity.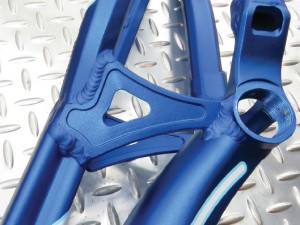 The rear part of the frame remind its predecessor Raijin : 4 tubes dedicated to performance faithfully to the Hashtagg identity, designed to overcome limits.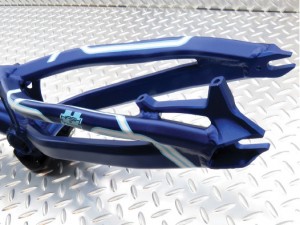 7005 T6 alumunium frame
10mm rear wheel axle
Euro 68mm bottom braket
Headset : Top Integrated bearing set and Lower part semi integrated bearing set.
20'': 1500g including bashguard 1000/349/+90
26'' : 1550g 1090/377/+70