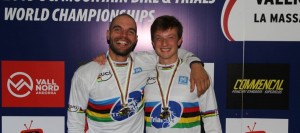 Nicolas Vallée vers un nouveau challenge.
Le jeune pilote français avait rejoint Hashtagg dès la création de la marque.
Sa progression et celle de Hashtagg ont rapidement suivi des courbes exponentielles, et clairement liées.
Nicolas a pu compter sur du matériel remarquable pour passer dans une nouvelle dimension,
celle des « Super Elites », et l'entreprise s'est appuyée sur son expérience croissante
pour incarner l'esprit du très haut de gamme hyper technique.
Cette collaboration a atteint son paroxysme lors des championnats du Monde
lors desquels Nicolas a conquis le premier titre de champion du Monde pour la marque,
en junior, quelques heures avant celui de Vincent Hermance en élite.
La carrière de Nicolas va désormais se poursuivre un peu plus encore dans la cour des grands,
et cela se fera sur une nouvelle monture.
Le jeune prodige souhaite tracer sa propre voie, et nous soutenons pleinement ce choix de carrière audacieux.
Une fois encore l'ensemble de l'équipe Hashtagg remercie Nicolas pour son apport
et lui souhaite beaucoup de succès à l'avenir, désormais en tant que concurrent
mais plus encore en tant que promoteur du trial pétri de talent.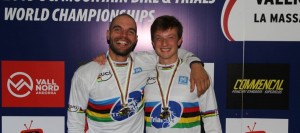 Nicolas Vallée to a new challenge.
The young french rider had joined Hashtagg from the very beginning of the brand.
Its progression, and Hashtagg's have followed exponential curves, and clearly linked.
Nicolas enjoyed remarkable equipments to step to a new dimension,
the « Super Elite » one, while the company benefited from his growing
experience to represent what high quality technical products are.
This collaboration reached its paroxysm during the last World Championship
where Nicolas has conquered the first World tittle ever for the company,
in the junior class, few hours before Vincent Hermance's tittle in the Elite category.
Nicolas' career will now keep on more again in the master class, and it will be on a new bike.
The young prodigy wishes to follow his own track, and we fully support him into this daring career choice..
Once again the hole Hashtagg crew thanks Nicolas for his contribution
and wish him a lot of success, now as a competitor but more again as a talented trials promoter.