#FourcheCarbone
Hashtagg est heureux de vous présenter sa nouvelle fourche carbone.
Après de longs mois de tests nous sommes fiers de proposer ce nouveau produit qui marque sans contest une nouvelle étape pour cet element determinant d'un vélo trial.
Plus légère de 130 grammes que la référence des fourches carbones existantes, une rigidité et une solidité comparables aux références en aluminium, voila la nouvelle definition d'une #fourche!
– 466 grammes en pivot de 160mm
– Construction monobloc
– Insert fileté intégré en haut de pivot (jouant le role d'étoile de jeu de direction)
– Construction spécifique à 45° du bas du pivot pour un mon- tage du jeu de direction sans cone inférieur (compatible avec tous les jeux de direction à roulement intégrés)
– Ecartement des tasseaux de freins de 85mm (optimisé pour les jantes en 32mm de largeur)
– Tissage des fibres longitudinal pour une rigidité accrue et une réponse dynamique à la traction (notamment sur les tech- niques dites de « 2 coups » et de « crocheté »)
– Finition UD mat
– Pattes ouvertes pour axe de 10mm.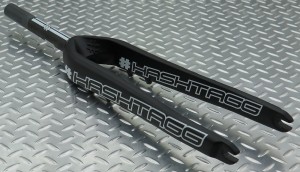 #CarbonFork
Hashtagg is glad to present you its new carbon fork.
After several months of test we are proud to offer this new product which clearly mark a new step about this deciding element on a trials bike.
130 grams lighter than the current reference carbon fork, rigi- dity and solidity similar to the current reference aluminium forks, this is the new definition of a #fork!
– 466 grams with a 160mm pivotal length
– Monobloc construction
– Insert threaded on the top of the pivotal (no star nut needed) – 45° specific design of the bottom of the pivotal, no steel cup needed (fitting every kind of internal headset)
– Hydraulic brake mount spacing of 85mm (optimized for the 32mm rims)
– Longitudinal layering for increased rigidity and dynamic res- ponse to traction (especially on the technics called « double hook » and « static hook »)
– UD mat finish
– Open 10mm dropouts