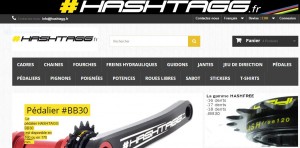 www.hashtagg.fr
 : Les produits HASHTAGG chez vous, partout dans le monde !
Nous sommes particulièrement heureux de vous faire savoir que l'intégralité de notre catalogue est à présent disponible pour expédition vers toutes les destinations à travers le monde.
Face à la demande croissante que reçoivent nos produits, nous avons planché sur une solution efficace afin de proposer à tous le meilleur du produit trial de competition.
Bien sur, si vous entretenez une relation privilégiée avec votre revendeur local, nous vous invitons à poursuivre avec ce professionnel pour obtenir vos produits HASHTAGG . Mais force est de constater que l'offre de produits trial physique connait ses limites dans certaines regions du monde, aussi nous avons voulu pallier cela.
Dès lors, nous vous proposons une livraison assurée par FedEx, afin que l'ensemble du service soit de qualité et transparent.
Nous vous invitons à visiter notre on line store 
www.hashtagg.fr
 pour plus d'information.
Merci de votre soutien, nous avançons au delà de nos attentes et nous vous le devons!
www.hashtagg.fr
 : HASHTAGG products straight to your place, anywhere in the World !
We are really satisfied to let you know that the hole HASHTAGG range is now available for a worldwide shipment.
To face a growing up demand on our products, we have done our best to set up an efficient solution to offer the riders the best competition trials products.
Of course, we encourage the relation you might have with your local dealer to get your hashtagg products. But we must admit that in some parts of the World, the physical offer for trials products is limited, and we wanted to settle this.
Therefore, we offer a FEDEX shipment which guaranty quality and transparency.
We invite you to visit our on line store
www.hashtagg.fr
 for more informations.
Thanks for your support, HASHTAGG moves forward and we owe you for that!
#OrderAndRide